Hamilton Spirit Gear
Posted on: October 31, 2022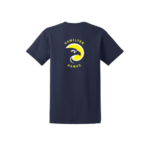 Hey, Hamilton Hawks!
Your opportunity to purchase Hamilton Hawks Spirit Gear is now HERE!!
From now until the end of the day on November 13, you can access the Hamilton Spirit Gear store at the link below. This vendor will produce (and personalize) the gear you choose, and will deliver pre-sorted packages to Hamilton for pick-up by families during the week of December 12. Please note that all sales are final and that your questions about sizes and items should go to the vendor, C9sports. Our Hamilton staff does not have information to be of assistance about those questions.
If your Hamilton student would like a piece of Spirit Gear but the cost would prevent your family from making this purchase, please reach out to your child's counselor, the Main Office at 206-252-5810, or to our Fiscal Specialist Lisa Melenyzer lmmelenyzer@seattleschools.org to see what we can do for you.  Additionally, if you are not comfortable making your payment with a credit card online, or you have any other questions or concerns about ordering or delivery details, please contact our Fiscal Specialist Lisa Melenyzer.